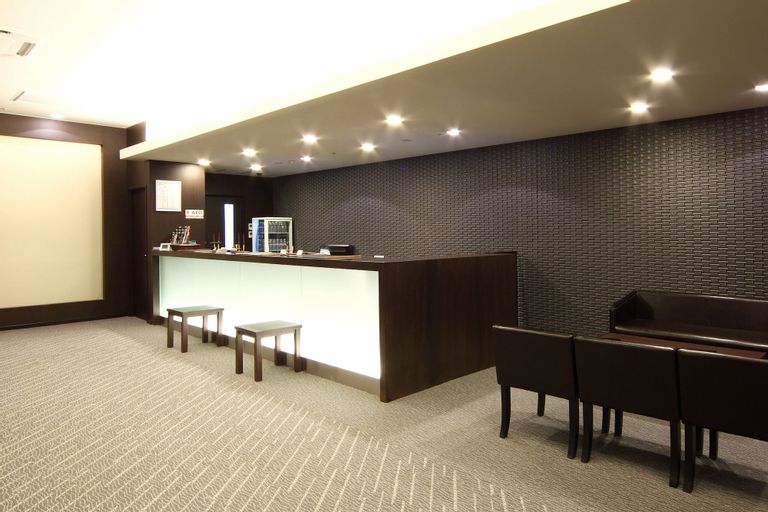 + 111 lainnya
Hotel
Hotel Wing International Shinjuku
Review
Tripadvisor
Dari 254 review
Review yang paling membantu
Excellent location .. easy to travel from hotel... 24hour no sleep district
Lokasi
1-21-7 Kabukicho,Shinjuku-ku
Dapatkan diskon spesial & benefit lainnya! Log in atau daftar sekarang.
Tentang Akomodasi
Waktu check-in & check-out
Mau check-in lebih awal? Atur waktu check-in dengan pihak akomodasi.
---
FAQ
Di mana alamat Hotel Wing International Shinjuku?
Hotel Wing International Shinjuku beralamat di 1-21-7 Kabukicho,Shinjuku-ku
Pukul berapa waktu check-in & check-out di Hotel Wing International Shinjuku?
Waktu untuk check-in di Hotel Wing International Shinjuku adalah mulai dari pukul 3 PM dan waktu check-out paling lambat pukul 11 am
Apa saja fasilitas yang tersedia di Hotel Wing International Shinjuku?
Fasilitas yang tersedia dan bisa kamu gunakan di hotel ini adalah (beberapa fasilitas mungkin perlu biaya tambahan):
Wifi
Parkir
Restoran
Resepsionis 24 Jam
Spa
Fasilitas
Hewan Peliharaan
•
Hewan peliharaan tidak diperbolehkan
•
Hewan peliharaan dibolehkan
Review
Excellent location .. easy to travel from hotel... 24hour no sleep district
Kebersihan
4.0
Kamar
3.5
Lokasi
4.0
Layanan
4.0
Nilai
4.0
Cynz87
06 Nov 2014 - Wisata sendiri
Kalau anda menyukai hiburan dunia malam, Hotel Wing International Shinjuku bisa menjadi pilihan anda. Hotelnya letaknya di daerah Kabukicho, berdekatan dengan klab-klab malam, tempat karaoke, dan hiburan malam lainnya. Dari stasiun Shinjuku anda bisa mencapai hotel ini dengan berjalan kaki sekitar 10-15 menit. Kamarnya bersih dan ukuran kamar untuk solo traveler seperti saya cukup besar untuk kebanyakan standar Hotel di Jepang. Bath Amenitiesnya lengkap tersedia dalam merek Shiseido. Dan sarapan nya walaupun jenis pilihannya terbatas, tidak terlalu banyak. Tetapi rasanya sangat enak. Di sebelah hotel ini terdapat convenient store juga.
U9029QHrobertc
22 Mar 2020 - Keluarga
Quite a hike to the train station. $10 taxi ride required. Room is small, and windows are locked shut. I was dying for fresh air. Had to prop open the door with a slipper. Breakfast is extra and is $18 and only Japanese style (no attempts at western breakfast). No coffe in the room. Had to go in pjs and slippers to the lobby and tackle the coffee machine which gives demi tassies only. Much better value out there.
BN S
12 Feb 2020 - Pasangan
I'd give it a 3/5: overall not a bad hotel. Not the best, not the worst I've ever stayed at in Shinjuku. Cons: - [ ] This hotel might as well be called a Love Hotel 🏩, you can even rent rooms by the hour. I know it's in Kabukicho, but it's in the corner of hooker hang out, there are literally prostitutes right outside trying to solicit clients and meeting their salaryman customers inside. Now I don't have such an issue with this but if you're a prude or have kids it may not be ideal. There's also homeless people sleeping outside in this area, right at the corner. You can see both these eyesores right outside your window. I would describe it as the "dirtiest" I've seen Japan, as far as there just being trash outside etc. since Japan is a very clean country otherwise. - [ ] No free breakfast like other budget hotels such as nearby Super Hotel (it's about $12 a person, $8 the first day with a coupon they give you, it's very good though). - [ ] Even if you get a non-smoking room your room will still smell like cigarette smoke from the ventilation. - [ ] The temperature is controlled by the hotel. For example: they advised that the heat in the room would be on, which is fine during winter but what if you don't want the room to be that warm? You can turn on the air conditioner inside the room but it's counterproductive since the heat will be blasting too. However, if you tell them it's too hot they'll bring you a portable fan and that helps a lot - [ ] The bed is so-so, there's only 2 pillows, not sure if you can ask for extra but it would have been much more comfortable if available - [ ] There's not many lighting options, there's either one really bright light or a very very dim one - [ ] Hotel Tonight falsely stated the breakfast is free, again, it is not. It's about 12 USD per person except for one day they give you a coupon for the cost to be around 8-9 dollars. Pros: - [ ] If you want to experience Shinjuku and all the hustle and bustle Tokyo has to offer, you can't beat the location. Everything is in walking distance -subway station, food, entertainment, arcades, there's a bowling alley and arcade next door, there's a bar next door, you're in the center of all the action. You can easily walk to all the restaurants, touristy stuff like Golden Gai, Robot Restaurant, Godzilla Road, and all the shopping areas. - [ ] The breakfast is good. If you like traditional Japanese breakfast (or haven't experienced it) I highly recommend paying for it at least once during your stay. They offer a variety of items including some western offerings like eggs, pastries, salad, dessert, etc. and additionally have rice, fish, a variety of Japanese salads like potato and macaroni salad, a few different soups including Phô and the service is good - [ ] The staff is very nice and helpful - [ ] The amenities such as toiletries 🧴 are abundant. They have beauty products such as face cleanser, moisturizer, cotton swabs, toothbrushes, shaving 🪒 cream, hairbrushes, hair ties, razors, bath 🛁 sponges 🧽 , etc and it's all complimentary. You can also rent things such as a shoe dryer? And they have a "towel warmer" in the lobby. - [ ] The room with the full size bed is not uncomfortably small. It fit 2 people just fine. We had enough room to lay out our luggage. The bathroom is small but it's typical for Japan. It has the standard Japanese toilet with some of the bells and whistles like washlet and the heated seat is nice. It's a pretty clean hotel by acceptable standards. It's not pristine and immaculately spotless but it's not dirty. - [ ] They will give you the option to make the room up or they'll just leave you a bag with new towels, robes and a bag of toiletries including tea. It's very convenient because there's 3 magnets on the the back of the door you use to advise them whether you want your room cleaned or not, or if you just want a bag of new towels, etc. - [ ] There's plenty of drink vending machines available so if everything's closed including the bar you won't go thirsty - [ ] There's 2 FamilyMarts right next door - [ ] Free wifi- it's ok, a little spotty - [ ] You can pay extra to check out later up to 2PM (3 hrs later and it costs 1,000 yen an hour). All in all, not a bad hotel. The staff is very nice and helpful. For the price, it's definitely worth it. We stayed 5 nights and paid around $400USD. We probably wouldn't stay here again just because we prefer others in the area that are about the same price that offer a little more and are newer. We chose this hotel from Hotel Tonight since they have good recommendations and since Super Hotel was completely booked. I'd recommend it for adults for sure, maybe not so much for kids. For around $70 USD a night, you can't beat it, I mean you can't even get a decent motel at that price in the US usually.
0511TL
18 Des 2019 - Keluarga
Hotel is very clean, tidy and spacious (as price we paid in Shinjuku, Tokyo). It is very convenience to go shopping and local fodd. Staffs are very friendly and helpful. They offer free hot tea and coffee. We stayed just 01 night and the hotel helped to keep our lugguge until 10pm. I'm surely going to come back here for next trip to Tokyo
Jason W
15 Des 2019 - Bisnis
The hotel is nice - not flash - but comfortable. My room was small, but perfect for me as I wasn't going to be spending much time at the hotel as I was in Tokyo for business. As with all hotels in Japan, everything is very compact including the bathroom. There is wifi and cable internet - both are excellent speed. There is plenty of eating and drinking options surrounding the hotel, and a convenience store at the bottom. The staff were extremely helpful and friendly and it was very close to Shinjuku Train Station. I would definitely stay again !
Kamu sudah melaporkan review.
Kami butuh beberapa saat untuk memperbaiki sebuah masalah. Silahkan coba sesaat lagi.
Kamu sudah pernah melaporkan review ini, dan laporanmu sedang dalam pengecekan.
Yay! Kamu berhasil log in.
Kamu sudah melaporkan review.
Kami butuh beberapa saat untuk memperbaiki sebuah masalah. Silahkan coba sesaat lagi.
Kamu sudah pernah melaporkan review ini, dan laporanmu sedang dalam pengecekan.