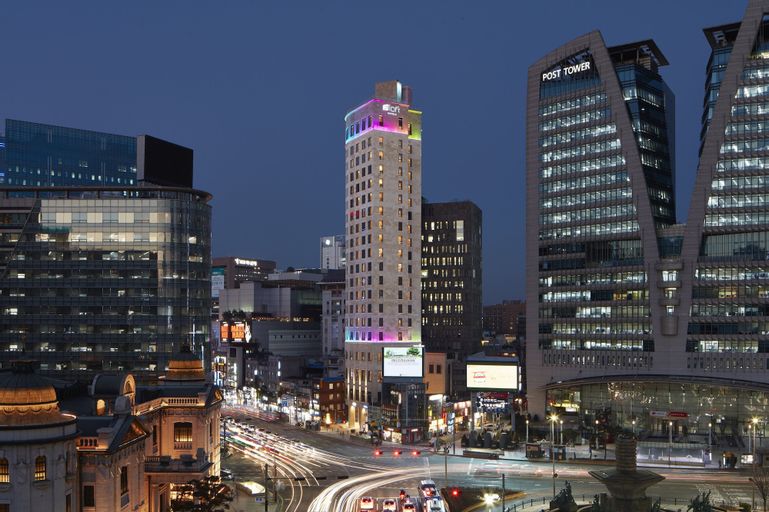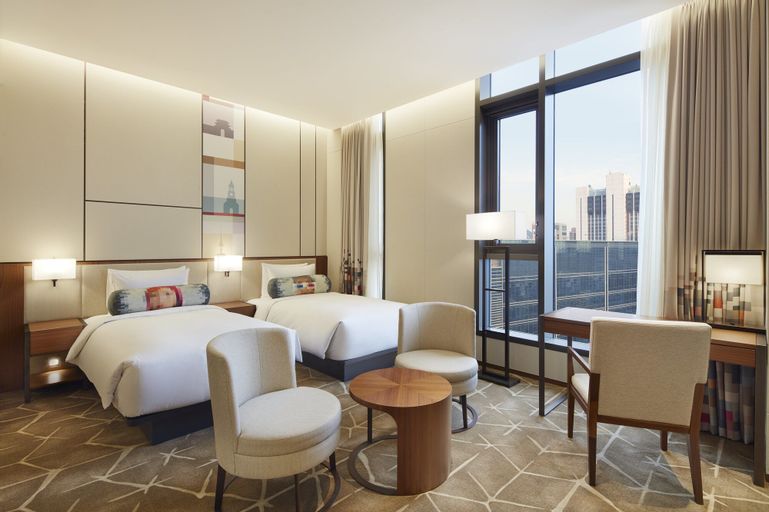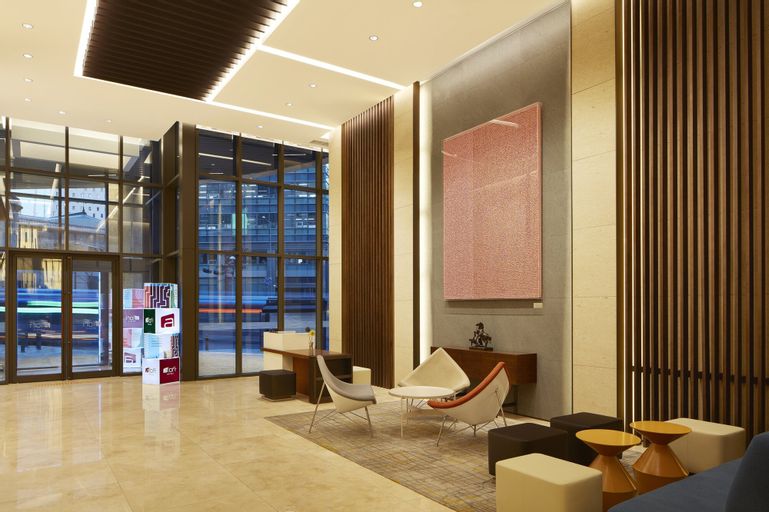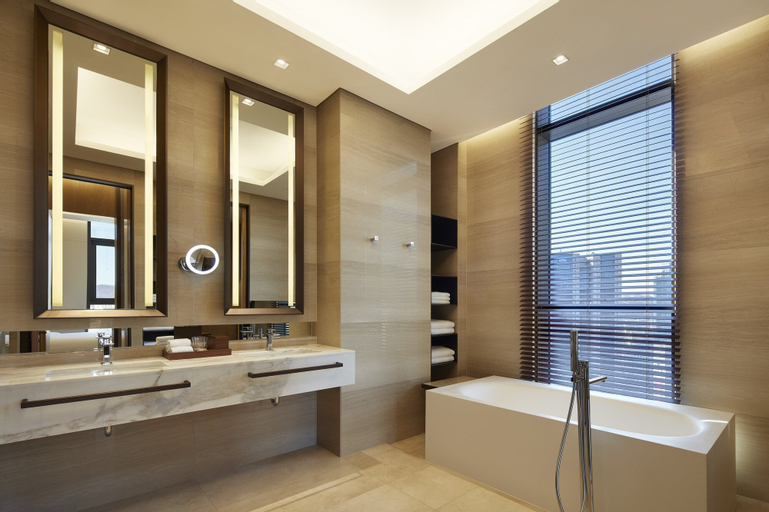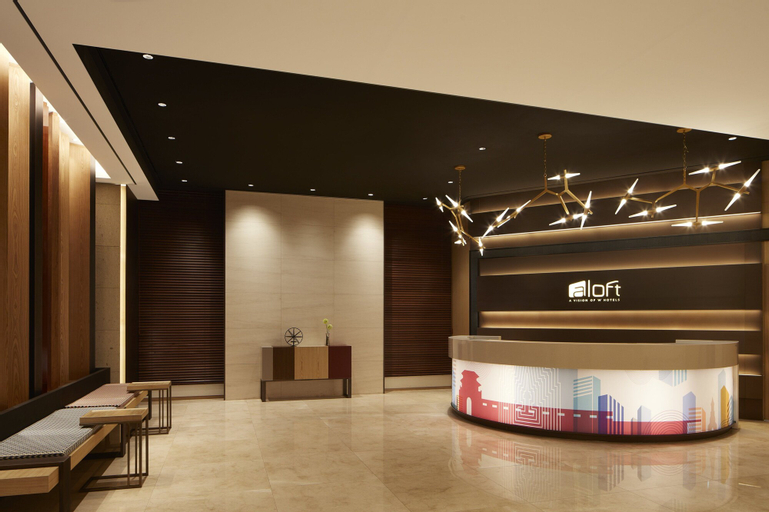 + 45 lainnya
Hotel
Aloft Seoul Myeongdong
Review
Tripadvisor
Dari 869 review
Review yang paling membantu
cukup bagus, cuma harganya luamayan mahal di bandingkan sejenis
Lokasi
56 Namdaemunro, Jung-gu,서울특별시 중구 남대문로 56
Dapatkan diskon spesial & benefit lainnya! Log in atau daftar sekarang.
Tentang Akomodasi
Waktu check-in & check-out
Mau check-in lebih awal? Atur waktu check-in dengan pihak akomodasi.
---
FAQ
Di mana alamat Aloft Seoul Myeongdong?
Aloft Seoul Myeongdong beralamat di 56 Namdaemunro, Jung-gu,서울특별시 중구 남대문로 56
Pukul berapa waktu check-in & check-out di Aloft Seoul Myeongdong?
Waktu untuk check-in di Aloft Seoul Myeongdong adalah mulai dari pukul 15:00 dan waktu check-out paling lambat pukul 12:00
Apa saja fasilitas yang tersedia di Aloft Seoul Myeongdong?
Fasilitas yang tersedia dan bisa kamu gunakan di hotel ini adalah (beberapa fasilitas mungkin perlu biaya tambahan):
Wifi
Parkir
Restoran
Resepsionis 24 Jam
Lift
Fasilitas
Fasilitas Umum
•
Surat kabar gratis di lobi
Hewan Peliharaan
•
Hewan peliharaan dibolehkan
Review
cukup bagus, cuma harganya luamayan mahal di bandingkan sejenis
Kebersihan
4.5
Kamar
4.5
Lokasi
5.0
Layanan
4.5
Nilai
4.5
kawaninja007
09 Mar 2020 - Pasangan
This is my second stay here and loving it, they have a superb location and easy to walk to myeongdong shopping area. The check in was swift and Amy helped me with early check in after my long flight, so kudos being a Bonvoy member. The room is spacious as usual, comfortable bedding and great amenities. You also get access to water station across the hall which makes it easy and environmental friendly but I wish they provide a water jar. The breakfast option is always very nice and delicious, they did take away the normal restaurant seating and was in banquet setting as they had an event but doesn't change the experience. Highly recommend this hotel 👌!
Hayato_TA
10 Mar 2020 - Wisata sendiri
I don't stay here , I stayed in moxy insadong. I triped Korea alone , but i don't know what should I do. and I had couldn't make fun memory yet. I feel drink, I stopped by this hotel somehow. My decision was very great. Bartender Jessica was gentle, friendly and wonderful. It makes cocktails that are not on the menu. Asks me about my tastes and makes something similar. It was of great quality. I'm going to drink just one glass and go home, but I'm sitting until the last train. She taught me a lot about Korea. Thanks to you, I can do a fun trip to Korea next time. I have stayed at the Marriott Hotel several times and have been to the bar many times, but Jessica is the best staff ever. The interior is very beautiful. There are many types of alcohol. Korean local beers are also available. If you are tired of sightseeing in Myeong-dong, be sure to stop by. 私はここに滞在せず、モクシー仁寺洞に滞在しました。 私は一人で韓国を旅行しましたが、どうしたらいいかわかりませんでした。まだ楽しい思い出を作ることができていませんでした。 私はお酒が飲みたくなり、なんとなくこのホテルに立ち寄ったのですが、大正解でした。 バーテンダーのジェシカは優しく、フレンドリーで素晴らしかったです。 メニューにないカクテルも作ってくれます。 私の好みについて尋ね、作ってくれるのですが、どれも美味しかったです。 一杯だけ飲んで家に帰りますが、終電まで居座ってしまいました。 彼女は韓国についてたくさん教えてくれました。 おかげで、次回は韓国への楽しい旅行ができます。 私はマリオットホテルに数回滞在し、バーに何度も行ったことがありますが、ジェシカはこれまでで最高のスタッフです。 インテリアもとてもきれいです。 お酒は多くの種類があります。 韓国の地ビールもあります。 明洞の観光に飽きたら、ぜひ立ち寄りましょう。
755nilap
29 Feb 2020 - Wisata sendiri
Here my many times come back to Seoul, I cannot move my heart from this Hotel. This hotel has been my second home when I visit seoul. It is very cozy and well maintained rooms and public areas inside the hotel it balance it with very modern chick bar. The morning buffet is my favorite place every morning. They have good selection and good variety plus everyday Bulgogi and warm rice always serve here. This place Hotel is clean and well maintained overall. It is not so fortunate trip that the corona virus has been around the world these day so I had to stay in the room a-lot to avoid unlucky circumstances. This time I stayed at their suite room. It is not too big but the layout made it spacious plus no need to mention the room is always well maintained every time I come back here. Since I visited Seoul pretty long period this time, I tried their laundry room and it is amazing. Next time I know that I can always wash my clothes whenever I run out of them plus they have coin detergent for purchase. It is very convenient in many way when I stay here at Aloft Hotel. I am very happy with the stay. They provide hand sanitizer in the entry of the hotel and everywhere in the public area inside and they sanitize the place frequently. They really care the health of their guests. Overall this place is still my most favorite hotel I ever stay in Seoul. Good price, Good area, good place ! Worth to try...
Nevajay
18 Feb 2020 - Pasangan
I have stayed at A Loft hotels in Miami. Their standard is just top notch! Food is good, staff friendly and helpful, great beds! Will definitely be back to this location! There's also a 7/11 right near by, great to get snacks and a data sim card. Make sure you have lots of Cash because you're going to want to try the amazing street food. Great prices on sneakers here too if you're a sneaker fan. All in all I rate this area and hotel 10/10! You just can't go wrong!
Overall, my wife and I were happy with our 1-night staycation. We booked an Aloft King room, and with gold status were upgraded to a corner room of the same type. Nothing fancy about the room, but the bed was very comfortable. Self-parking is just next to the lobby's main front door, with only space for a couple cars outside, so it's hard to say whether it's always easy to get a spot (although there apparently is some underground parking, getting into and out of the garage appears to be a bit tight). But that parking is free, so very little complaint from us. Breakfast during covid-19 times didn't include a buffet. Instead, it was either (a) Western breakfast or (b) Korean breakfast. The Western breakfast included two eggs, two small hashbrowns, bacon/sausage, a basket of bread, yogurt, juice, some roasted veggies, and unlimited fresh coffee (espresso/americano/cappucino, etc). The 2nd floor bar was closed quite early on Sunday. Not sure when it closed for the evening! The rooftop bar was really great on a clear Spring day. Spacious and airy for what it is. It was just two of us there at around 1:00pm on a Monday. Soft drink was 8k KRW. We imagined that it would be a wonderful spot to spend an evening. The hotel is located in a good location for shopping and dining. However, do note that on Sundays during this covid-19 period, a lot of places are closed or have limited hours. You may have to hunt. At 11pm on Sunday, only a couple convenience stores remain open within 10 minutes walking distance. All in all, the staff were friendly, check-in and check-out were smooth, the ground-floor lobby has extra umbrellas if you need to borrow them, and the hotel is very clean and quiet. We saw 5-6 other guests during our Monday morning breakfast, but otherwise saw nobody else in the hotel during our stay. Happy to visit again for a staycation at this current pricing.
Kamu sudah melaporkan review.
Kami butuh beberapa saat untuk memperbaiki sebuah masalah. Silahkan coba sesaat lagi.
Kamu sudah pernah melaporkan review ini, dan laporanmu sedang dalam pengecekan.
Yay! Kamu berhasil log in.
Kamu sudah melaporkan review.
Kami butuh beberapa saat untuk memperbaiki sebuah masalah. Silahkan coba sesaat lagi.
Kamu sudah pernah melaporkan review ini, dan laporanmu sedang dalam pengecekan.