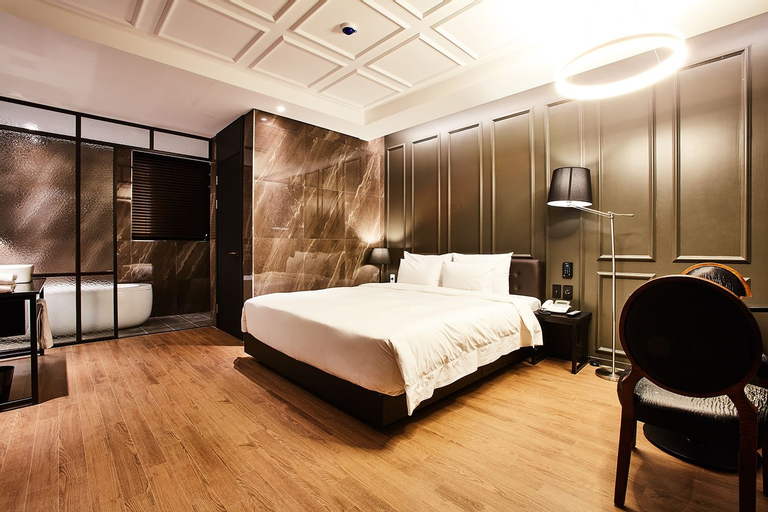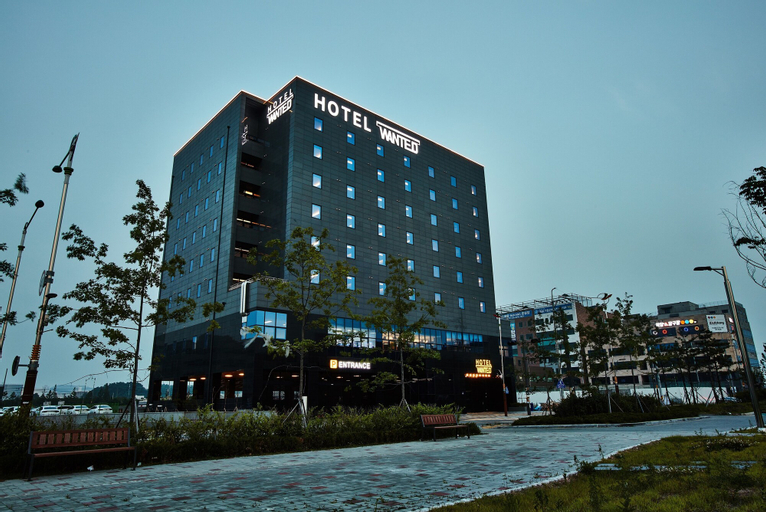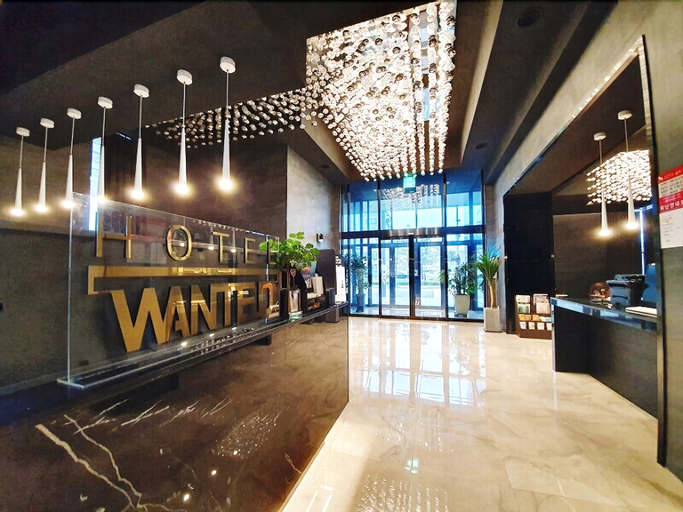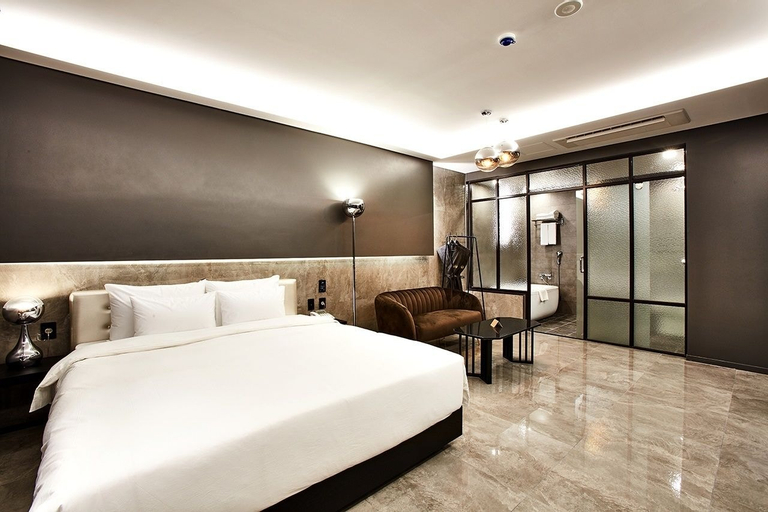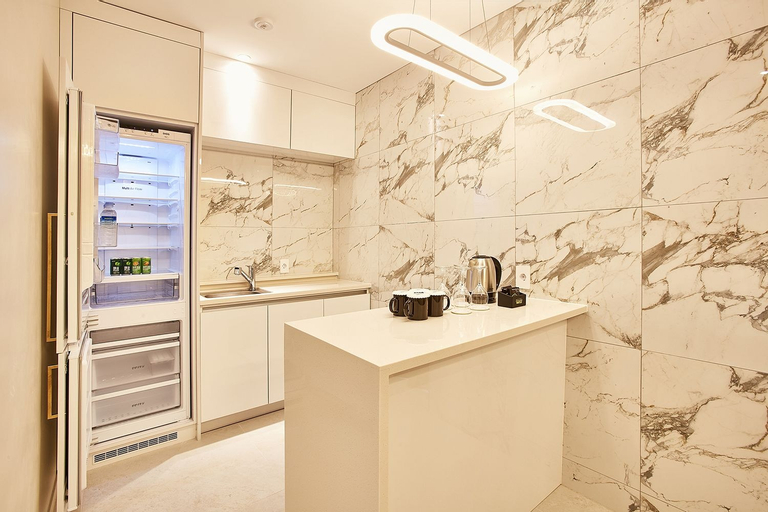 + 89 lainnya
Review
Tripadvisor
Dari 1 review
Review yang paling membantu
TL;dr. This is, in large part, a 'love motel' where many lovebirds stay. It is newly built in 2018 but you should be prepared nevertheless for staying here. The room smelled of cigarette smoke and offered no bathroom privacy. We checked out just before 9pm, only five hours after we checked in, even though we booked an overnight stay. My wife and I live in Songdo, Incheon and were looking for a place in Cheongna for an overnight staycation in January 2021. We were looking for a cheap clean place with good or very good reviews. Hotel Wanted fit the bill. Check-in was interesting. With my (Korean) wife by my side, I mentioned to the check-in staff that I "wanted to check-in" and they wrote down a quote of 90k KRW/night room rate on a piece of paper. I had already made a reservation and paid on Agoda, and thus expressed my confusion. When the staff understood that I had a reservation, they were visibly embarrassed. I will say that the lobby is quite nice. In the sitting room you can get freshly ground and brewed americano or espresso. The bedroom, bathroom, and furniture, as of January 2021, all essentially looked brand new. However, the structure of the (purple) "Superior Double Room" where we stayed is not the most guest friendly if you are a party of 2. The bathroom is a largely unenclosed area, with a bathtub. A shower and toilet are adjacent, separated from the bathtub by just "loose" locker-room-style glass doors (not 'soundproofing' wooden ones). Most importantly, there is no door separating the bathtub from the bed, just an open-ended glass partition. That's a "small" detail that the pictures on the website do not share. The glass partition is rigid and unmovable with no moving parts (no latch, guys, I checked!). If you are staying with anybody else in the room, and either of you need privacy while bathing/showering, it's not an easy proposition. Anyways, also with the shower and the toilet, any sounds made will easily reach any other parts of the room. So again, aside from the most intimate/casual of couples, the bathroom in this Superior Double Room is basically inadequate. As the hotel's own pictures show, the sink is entirely separate from the bathroom area, located by a counter at the front of the room. Next to the sink is a pamphlet describing an in-room massage service. I include a picture showing that. Probably the worst part of our stay -- and the reason why we checked out only 5 hours into our stay -- was the smell of cigarette smoke in the room. It's not a super-strong smell, but it's obvious nonetheless. It's a stale smell that you get when secondary smoke has permeated into the mattress and the furniture. (Put another way, if you're in that room for only 10 minutes, your clothes won't smell. But when my wife and I checked out 5 hours later, the smell was already within all our clothes.) If you don't think you can sleep in a room that smells like cigarette smoke, you will want to skip staying in this hotel. The one window near the front of the room opens quite widely, but it won't save you from the smell. (In my opinion, the room also smelled a tiny bit of stale urine, but my wife couldn't say she smelled the same.) The rooms apparently basically all have a similar smell of cigarette smoke, because when we called the front desk, that's what they told us. We believe that many of the reviews don't mention the smoky smell because during the non-winter months it's likely possible to turn on the air conditioning in the room, to help "ventilate away" the smell. However, during the winter months, the entire air conditioning system is turned off at the level of the entire building. I will mention that, as of January 2021, the hotel offers Netflix free of charge on all of their TV's. That's pretty cool, I'll admit. Just ask for the Netflix hardware equipment at the front desk when you check in. The underground parking lot fills up fast. (At 5:30pm it was full on a Saturday night.) At the moment, there is a large outdoor parking lot outside of the hotel as well, but that might be replaced soon, due to some construction that we saw. However, our first hint that this was largely a love motel was at the basement garage entrance to the elevators: there are digital screens indicating that a 3-hour stay costs only 30k KRW, and where you can pay with cash or credit card and receive your key card directly from the attached machinery. My wife tells me that this enables couples to use a hotel room discreetly without talking to any front desk staff. Anyways, the 'love motel' feel was also a bit obvious with the other hotel guests: the ones we saw in the hotel lobby were all very shy and all couples very clearly wanted to skip riding the elevator with other couples. Given all of our experience -- the bedroom smoky smell, the lack of privacy in the bathroom, and our expectations of 'love motel' noises for later that night -- we decided to check out the same day, at around 8:45pm, instead of staying overnight. All in all, if you are with a close significant other, i.e. a wife/husband or (very!) close gf/bf, and you don't mind cigarette smoke, maybe the Superior Double Room is viable. If you are by yourself, even better. But for all other situations, the Superior Double Room is just not advisable. You might fare better with a bigger room, but I believe you'll still find the cigarette smell. You have hereby been duly warned. :)
Lokasi
20, Bukhang-ro 32beon-gil,북항로32번길 20
Dapatkan diskon spesial & benefit lainnya! Log in atau daftar sekarang.
Tentang Akomodasi
Waktu check-in & check-out
Mau check-in lebih awal? Atur waktu check-in dengan pihak akomodasi.
---
FAQ
Di mana alamat Hotel Wanted?
Hotel Wanted beralamat di 20, Bukhang-ro 32beon-gil,북항로32번길 20
Pukul berapa waktu check-in & check-out di Hotel Wanted?
Waktu untuk check-in di Hotel Wanted adalah mulai dari pukul 15:00 dan waktu check-out paling lambat pukul 12:00
Apa saja fasilitas yang tersedia di Hotel Wanted?
Fasilitas yang tersedia dan bisa kamu gunakan di hotel ini adalah (beberapa fasilitas mungkin perlu biaya tambahan):
Wifi
Parkir
Restoran
Resepsionis 24 Jam
Lift
Fasilitas
Fasilitas Umum
•
Area merokok yang ditetapkan (denda berlaku)
Layanan Hotel
•
Layanan laundry/dry cleaning
Review
Oops, belum ada review nih
Ayo menginap di akomodasi ini dan kasih tahu pengalamanmu dengan menulis review.
Kamar
2.0
Layanan
3.0
Nilai
3.0
TL;dr. This is, in large part, a 'love motel' where many lovebirds stay. It is newly built in 2018 but you should be prepared nevertheless for staying here. The room smelled of cigarette smoke and offered no bathroom privacy. We checked out just before 9pm, only five hours after we checked in, even though we booked an overnight stay. My wife and I live in Songdo, Incheon and were looking for a place in Cheongna for an overnight staycation in January 2021. We were looking for a cheap clean place with good or very good reviews. Hotel Wanted fit the bill. Check-in was interesting. With my (Korean) wife by my side, I mentioned to the check-in staff that I "wanted to check-in" and they wrote down a quote of 90k KRW/night room rate on a piece of paper. I had already made a reservation and paid on Agoda, and thus expressed my confusion. When the staff understood that I had a reservation, they were visibly embarrassed. I will say that the lobby is quite nice. In the sitting room you can get freshly ground and brewed americano or espresso. The bedroom, bathroom, and furniture, as of January 2021, all essentially looked brand new. However, the structure of the (purple) "Superior Double Room" where we stayed is not the most guest friendly if you are a party of 2. The bathroom is a largely unenclosed area, with a bathtub. A shower and toilet are adjacent, separated from the bathtub by just "loose" locker-room-style glass doors (not 'soundproofing' wooden ones). Most importantly, there is no door separating the bathtub from the bed, just an open-ended glass partition. That's a "small" detail that the pictures on the website do not share. The glass partition is rigid and unmovable with no moving parts (no latch, guys, I checked!). If you are staying with anybody else in the room, and either of you need privacy while bathing/showering, it's not an easy proposition. Anyways, also with the shower and the toilet, any sounds made will easily reach any other parts of the room. So again, aside from the most intimate/casual of couples, the bathroom in this Superior Double Room is basically inadequate. As the hotel's own pictures show, the sink is entirely separate from the bathroom area, located by a counter at the front of the room. Next to the sink is a pamphlet describing an in-room massage service. I include a picture showing that. Probably the worst part of our stay -- and the reason why we checked out only 5 hours into our stay -- was the smell of cigarette smoke in the room. It's not a super-strong smell, but it's obvious nonetheless. It's a stale smell that you get when secondary smoke has permeated into the mattress and the furniture. (Put another way, if you're in that room for only 10 minutes, your clothes won't smell. But when my wife and I checked out 5 hours later, the smell was already within all our clothes.) If you don't think you can sleep in a room that smells like cigarette smoke, you will want to skip staying in this hotel. The one window near the front of the room opens quite widely, but it won't save you from the smell. (In my opinion, the room also smelled a tiny bit of stale urine, but my wife couldn't say she smelled the same.) The rooms apparently basically all have a similar smell of cigarette smoke, because when we called the front desk, that's what they told us. We believe that many of the reviews don't mention the smoky smell because during the non-winter months it's likely possible to turn on the air conditioning in the room, to help "ventilate away" the smell. However, during the winter months, the entire air conditioning system is turned off at the level of the entire building. I will mention that, as of January 2021, the hotel offers Netflix free of charge on all of their TV's. That's pretty cool, I'll admit. Just ask for the Netflix hardware equipment at the front desk when you check in. The underground parking lot fills up fast. (At 5:30pm it was full on a Saturday night.) At the moment, there is a large outdoor parking lot outside of the hotel as well, but that might be replaced soon, due to some construction that we saw. However, our first hint that this was largely a love motel was at the basement garage entrance to the elevators: there are digital screens indicating that a 3-hour stay costs only 30k KRW, and where you can pay with cash or credit card and receive your key card directly from the attached machinery. My wife tells me that this enables couples to use a hotel room discreetly without talking to any front desk staff. Anyways, the 'love motel' feel was also a bit obvious with the other hotel guests: the ones we saw in the hotel lobby were all very shy and all couples very clearly wanted to skip riding the elevator with other couples. Given all of our experience -- the bedroom smoky smell, the lack of privacy in the bathroom, and our expectations of 'love motel' noises for later that night -- we decided to check out the same day, at around 8:45pm, instead of staying overnight. All in all, if you are with a close significant other, i.e. a wife/husband or (very!) close gf/bf, and you don't mind cigarette smoke, maybe the Superior Double Room is viable. If you are by yourself, even better. But for all other situations, the Superior Double Room is just not advisable. You might fare better with a bigger room, but I believe you'll still find the cigarette smell. You have hereby been duly warned. :)
Kamu sudah melaporkan review.
Kami butuh beberapa saat untuk memperbaiki sebuah masalah. Silahkan coba sesaat lagi.
Kamu sudah pernah melaporkan review ini, dan laporanmu sedang dalam pengecekan.
Yay! Kamu berhasil log in.
Kamu sudah melaporkan review.
Kami butuh beberapa saat untuk memperbaiki sebuah masalah. Silahkan coba sesaat lagi.
Kamu sudah pernah melaporkan review ini, dan laporanmu sedang dalam pengecekan.