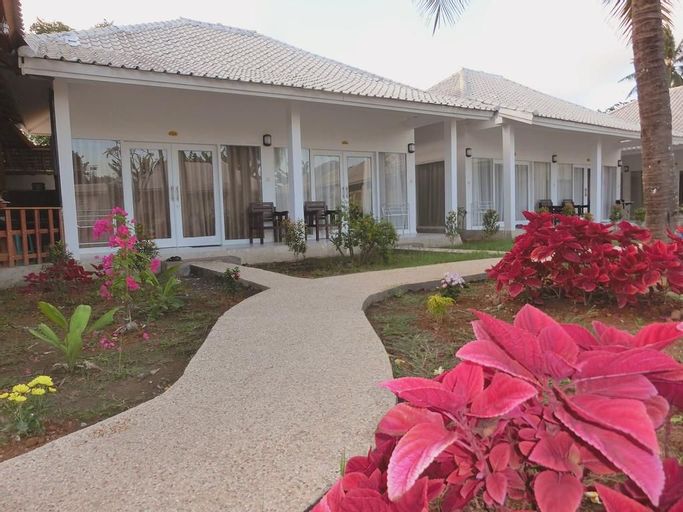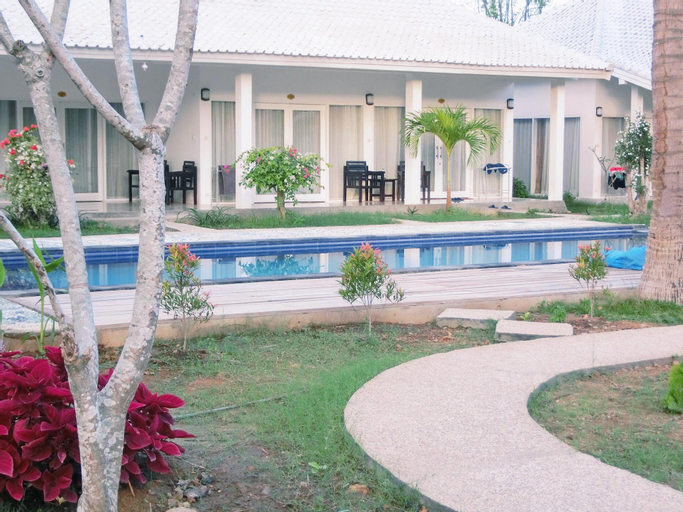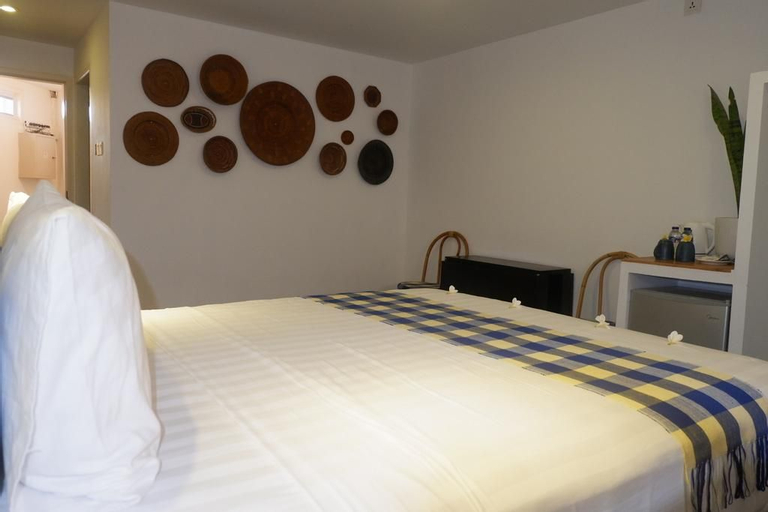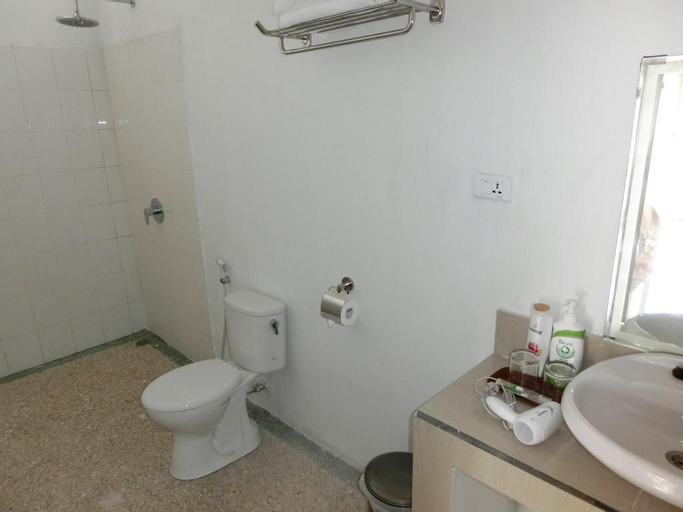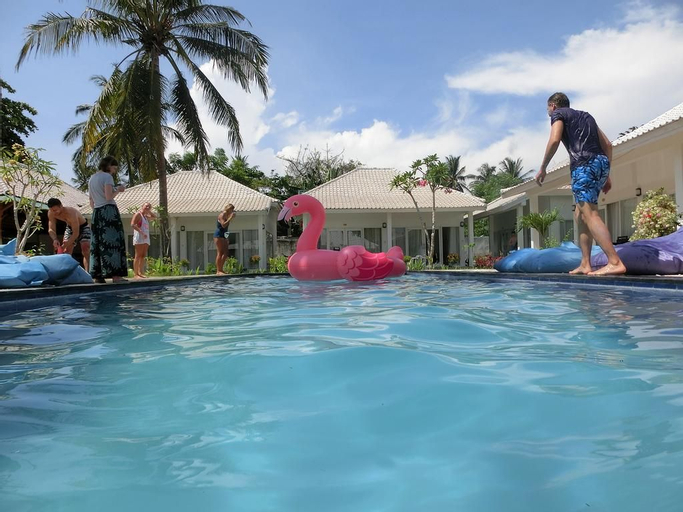 + 28 others
Hotel
Lombok Holiday Hotel
Reviews
Tripadvisor
From 17 reviews
kamarnya bersih dan luas dengan ruang santai yg nyaman
Moch Chaidir Malikul Mulki
Geovanni Ilham Akbar Santoso
Pesan dengan sarapan tapi tidak ada sarapan
bgagus tapi air suka mati
Location
Jl. Mawun No.1, Kuta, Pujut, Kabupaten Lombok Tengah, Nusa Tenggara Bar., Indonesia
Enjoy special discounts & other benefits! Log in or register now.
About Accommodation
Check-in & check-out time
Check-in time:
14:00-23:00
Do you want to check-in early? Arrange check-in time with the accommodation
---
FAQ
Jenis kamar apa saja yang tersedia di Lombok Holiday Hotel?
Jenis kamar yang tersedia di hotel ini antara lain adalah:
Kamar Standard
Kamar Superior
Berapa kisaran harga kamar untuk menginap di Lombok Holiday Hotel?
Harga termurah di Lombok Holiday Hotel kalau kamu mau menginap hari ini adalah IDR 184.220
Di mana alamat Lombok Holiday Hotel?
Lombok Holiday Hotel beralamat di Jl. Mawun No.1, Kuta, Pujut, Kabupaten Lombok Tengah, Nusa Tenggara Bar., Indonesia
Pukul berapa waktu check-in & check-out di Lombok Holiday Hotel?
Waktu untuk check-in di Lombok Holiday Hotel adalah mulai dari pukul 14:00-23:00 dan waktu check-out paling lambat pukul 12:00
Apa saja fasilitas yang tersedia di Lombok Holiday Hotel?
Fasilitas yang tersedia dan bisa kamu gunakan di hotel ini adalah (beberapa fasilitas mungkin perlu biaya tambahan):
tiket CLEAN
Kolam Renang
Wifi
Parkir
Resepsionis 24 Jam
Faciliies
Hewan Peliharaan
•
Hewan peliharaan tidak dibolehkan
•
Hewan peliharaan dibolehkan
Reviews
kamarnya bersih dan luas dengan ruang santai yg nyaman
Moch Chaidir Malikul Mulki
07 Mei 2021 - Pasangan
Geovanni Ilham Akbar Santoso
05 Mei 2021 - Solo
Pesan dengan sarapan tapi tidak ada sarapan
Agnes Tias
04 Mei 2021 - Keluarga
Lisa Indahyani
02 Mei 2021 - Keluarga
bgagus tapi air suka mati
Lisa Indahyani
02 Mei 2021 - Keluarga
susah airnya..suka mati..gimana kalau lg PUP pas air mati..heheheh...kamar luas,bersih,sarapan standar,pemilik villa tinggal disitu juga dan ramah bangeeet...mksh ya..
Meda Yanti
21 Apr 2021 - Solo
Pemilik hotel sangat ramah dan murah senyum kami di jamu dengan baik sekali
Hotelnya bener bener sesuai harga. Dari luar keliatan bersih tp dalemnya jorok bgt sampe saya pindah cari hotel lagi karna mau mandi aja ga tega😭😭😭
Fahmi Adriansyah
08 Apr 2021 - Solo
Keren si orngny ramah" hotelny jga bersih
Kebersihan
3.5
Kamar
4.0
Lokasi
4.0
Layanan
4.0
Nilai
3.0
It's a good hotel from outside. There's a swimming pool in the middle of the hotel. It's like a small resort with many rooms inside. No car parking inside. No front desk. Just talked to the security guard and he let me check-in. The standard room is not clean enough (the floor ceramics is a bit dirty) but the bed and pillow is good. The air con also working well and it has hot shower. Room is spacious. Maybe better if in VIP room rather than standard room. It has more facilities such as TV and chair in front of the room. Breakfast only plain bread with omelette, tea, coffee or orange juice. Fried rice is not available at that time. Good value for money but you can definitely find better hotel with the same price. The hotel located in small alley and has a very quite and calm environment. I think the owner need to work more to improve the service related hospitality.
penrag
10 Jul 2019 - Pasangan
I wanted to really like this place - the rooms are big, the shower was hot (for a while), it's very close to cafes (kenza is close by), the pool It seems has been cleaned (I read previous reviews in 2018 that people did not want to use it). As always the bathrooms could seriously do with a proper clean and maintenance (but this is the same for most accomodation we stayed at in Lombok. Oh and the wifi works. But then they tried to scam us by paying for another day for the scooter when we had it for less than 24 hours. That really frustrates me and not appreciated at all. Lucky my partner put his foot down.
riri273
21 Okt 2018 - Wisata sendiri
I stayed on June, 20 2018 until June, 21 2018. The hotel is @ Kuta, Lombok. First of all, sorry for super late review and I want to say be strong Lombok for all for all that happened. Honestly, this is transit hotel, I stay here alone. I occupied a superior king room, I think the room is large enough and have the same size for all of the room. My room is at the corner and since I stay here alone, I want to change my room then I ask for another room and located at the front (near receptionist area) I really feel happy when it's still available room. My room change into twin-bed room. There are twin bed, terrace, located in front of swimming pool and ext to receptionist area. And on the room, there is an air conditioner with a very good condition. And the bathroom equipped by water-heater-shower with a sink with a mirror inside. Just very standard bathroom. The public facilities there are, Swimming pool, and airport transfer. They served nasi goreng with fried egg or bread for breakfast (you can only choose one). And the taste was plain... Total price for a night approximately around Rp350.000. That's okay.. since the location very near to the Kuta beach, you can walk around only 1-minute to the beach. Not so recommend.. but that's okay since this is just transit hotel
Located on the western outskirts of Kuta Lombok the Hotel was a nice suprise. Its entrance sign is almost non existant and it fronts a narrow unpaved road. Once inside the gates there is a well kept garden,and a number of ground level units all with pool access. Our room was a reasonable size, clean and tidy. The staff were great and you could organise tours and transport from the desk. The included breakfast was the only meal available. Not that it was a problem as there were any number of restraunts and coffie shops within easy walking distance. Kuta Beach proper was a reasonable walk along the beach front but there isn't a lot there yet.
Dianne B
31 Jul 2019 - Pasangan
We came here with a group and stayed a week. Would have left earlier if we were traveling alone and had not paid in advance. Arrived late the first night in a group of 9 and it was obvious we were not expected until the next day. My partner and I were given a room which had a bed and a chair only, no other furniture, nowhere to put clothes or lay out personal items. The shower was cold (despite supposedly having hot and cold water), the towel rail came out of the wall when I tried to put my towel on it and the toilet rocked from side to side when I sat on it. Also did not flush properly. Dirty bathroom. Next day asked for another room and were moved to a VIP room. Bigger room with TV, a long wall table, a chair and mosquito net over the bed, but still nowhere to put clothes. I managed to get one hot shower (in the filthy shower stall) for the rest of the stay. The smelly bathroom flooded each time because of blocked drains taking about an hour to finally clear. If you needed to use the toilet in this time, your feet were in the water and clothing got wet. None of the glass doors to the rooms had been cleaned for some time with grubby hand prints and smudges noticeable. For breakfast there was a choice the first day of omelet, pancake or poached eggs. I ordered the poached eggs which came with 2 slices of plain bread, no butter or jam and no salt for the 2 poached eggs. When I requested these from the young lady serving us, the long face and scowl. This was to be the start of my day for the rest of the stay. When I spoke to the owner/manager about getting a toaster with the analagy of eating plain untoasted bread was like eating uncooked rice, he produced a sandwich toaster which at least did the job. After the first day, the rest of the group arrived and we made a total of 15,so breakfast was changed to a "buffet" which consisted of 3 choices - pancake, omelet (or scrambled eggs) or fried rice. These were placed in square metal bain Marie pans with lids but with no means to keep them warm. If you came later for breakfast, the food was cold. On the plus side, the bed and pillows were very comfortable. The pool was clean but could do with a few outdoor tables and chairs as the bean bags are not the easiest thing to get out of if you are on the senior side or have bad knees. Only 3 rooms had outdoor seating which meant staying in the room otherwise.
You've reported a review.
A problem occurred and we need a while to fix it. Please try again later.
You've already reported this review, and we're currently checking your report.
Yay! You've successfully logged in
You've reported a review.
A problem occurred and we need a while to fix it. Please try again later.
You've already reported this review, and we're currently checking your report.